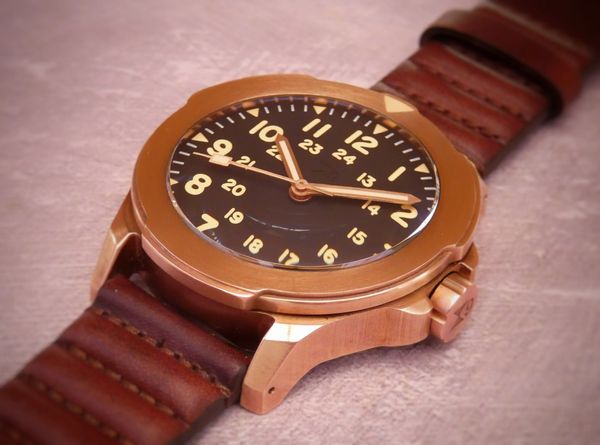 Depth Charge
Key Specifications.
Solid  bronze case.     42 mm wide.     48 mm lug to lug.  14 mm thick. 22 mm lug strap width    Bespoke made case, only made by TC-9.   You cannot buy this case anywhere else,  it is designed and made by us.  
The case whilst wide at 42 mm has a short lug to lug length of 48 mm - which means it can be worn on any wrist size, including small wrists - very comfortably.
The case material is solid bronze.    The bronze starts off as a rose gold colour and will patina and age to reflect your experiences.   It can be polished to keep it rose gold or allowed to go darker and more interesting with patina.  It's your choice.    Our watches are the deepest red of any bronze watches available today, and our unique in the way they look and age.
Solid bronze crown - screw in crown.      The crown is solid bronze and will screw down down to ensure the watch has depth rating of 300 meters
Stainless steel case back .
Seiko Automatic NH35A movement.   Japanese powerhouse movement that is reliable and accurate. 
Domed sapphire glass with a anti-reflective coating.  The crystal is extremely clear  for superb legibility at any angle - and virtually unbreakable.
3 dial options.   All dials are 2 piece sandwich dials  finished with multiple coatings of Vintage style SuperLume and glow very, very brightly.
The three dial options are
1. Sunburst Blue with Submarine Motive
2. Sunburst Slate Grey
 3. Solid Brass with vintage aged finishing.
Horween Chromexel Leather strap with Solid Bronze Buckle.
Extra rubber diving strap,
Reviews